The Ministry of Chieftaincy and Religious Affairs has directed that trainees under the Nation Builders Corps (NABCo) be allowed to leave post.
This follows the completion of the programme back in October 2021.
NABCO was introduced by the Akufo-Addo led administration in 2017 as part of measures to address graduate unemployment in the country.
In November 2021, the NABCO secretariat directed trainees to remain at post after a high-level consultation with implementation partners led by the Vice President, Dr. Mahamudu Bawumia and the Chief of Staff, Akosua Frema Opare.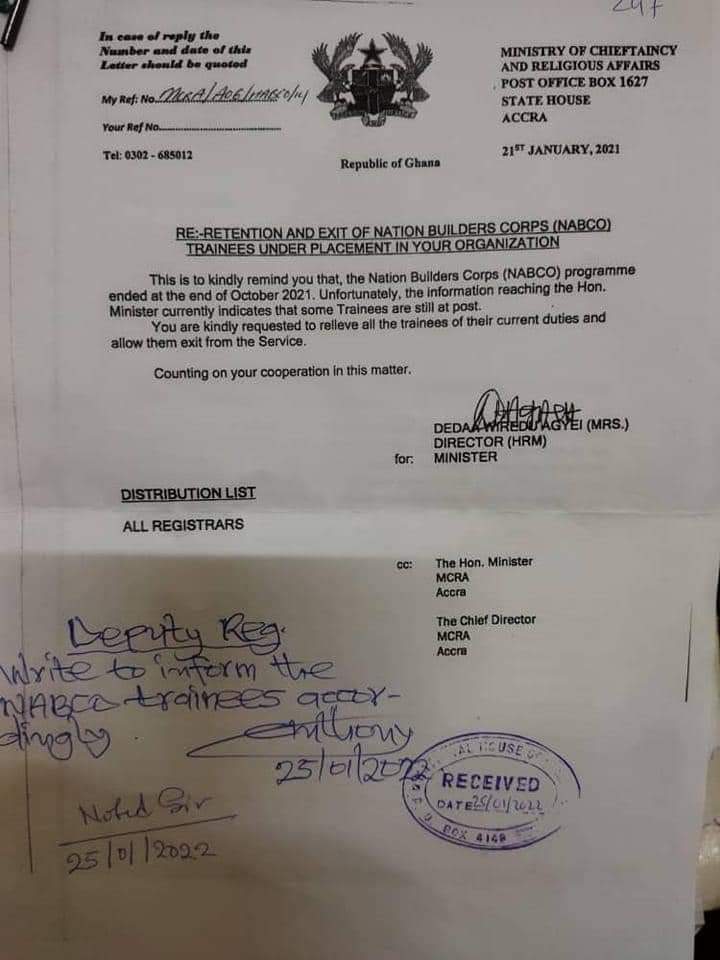 It came in the wake of a U-turn after the National Coordinator of NABCO, Dr. Ibrahim Anyars indicated that there would be no extension of the 3-year contract of the trainees.
The Secretariat further indicated that trainees will continue to discharge their duties at their various workplaces whilst the scheme and the MIPs work towards a smooth final transition.
But two months down the line, the Chieftaincy Ministry expressed surprise that some trainees under its purview are still at post.
In a letter dated January 21, 2022, the Ministry directed all registrars to "relieve all the trainees of their current duties and allow them exit from the Service."
The beneficiaries at the Ministry are expected to receive formal communique to ensure compliance.
During the presentation of the 2022 budget, government said the YouStart program and a Digital inclusion program will gradually absorb the remaining 67,000 in batches during the next fiscal year.
Assuring that they will not be laid off, the Finance Minister, Ken Ofori-Atta said the government through the initiative will support the beneficiaries to gain access to capital, training, technical skills and mentoring to enable them to launch and operate their own businesses under the initiative.