Among the saddest moments in the life of an individual or a group of people is when they are being discriminated against and negatively tagged for crimes they have not committed.
In particular, the situation becomes more depressing when they have no voice to speak for them in order to prove their innocence.
The above synopsis depicts the state of the residents of Boffa Bayotte, a forest fringe community in Basse-Casamance in the Niassia district of the Zinguinchor region of Senegal who have been wrongly accused of killing some 14 people who went into the Bayyotte Forest to fetch firewood.
Residents claim they are completely innocent of the heinous crime that was committed by people suspected to be members of the Senegalese separatist group, Movement of Democratic Forces of Casamance (MFDC).
On January 6. 2018 some people who went to fetch firewood in the Boffa Bayotte forest south of Ziguinchor were brutally attacked.
During the attack on that despondent day, 14 deaths were recorded, Seven were wounded and three people managed to escape unharmed.
The residents of Boffa Bayyotte believe that the massacre of 14 wood fetchers which took place that day was an arranged ambush because the people were grouped together, laid on the ground, and savagely executed.
Five years down the line, the people of Boffa Bayotte are suffering identity discrimination as a result of the massacre even as they consistently deny involvement in the crime.'
During a field trip to the community by Journalists from Senegal, Ghana, and Sierra Leone under the Engaging Media and Minorities to Act for Peacebuilding ( EMMAP) Project, the Chief of Boffa Bayotte, Edouard Dasylva speaking through an interpreter bemoaned that they are being victimized for a crime they did not commit and they are living with it because they do not have a voice to speak for them.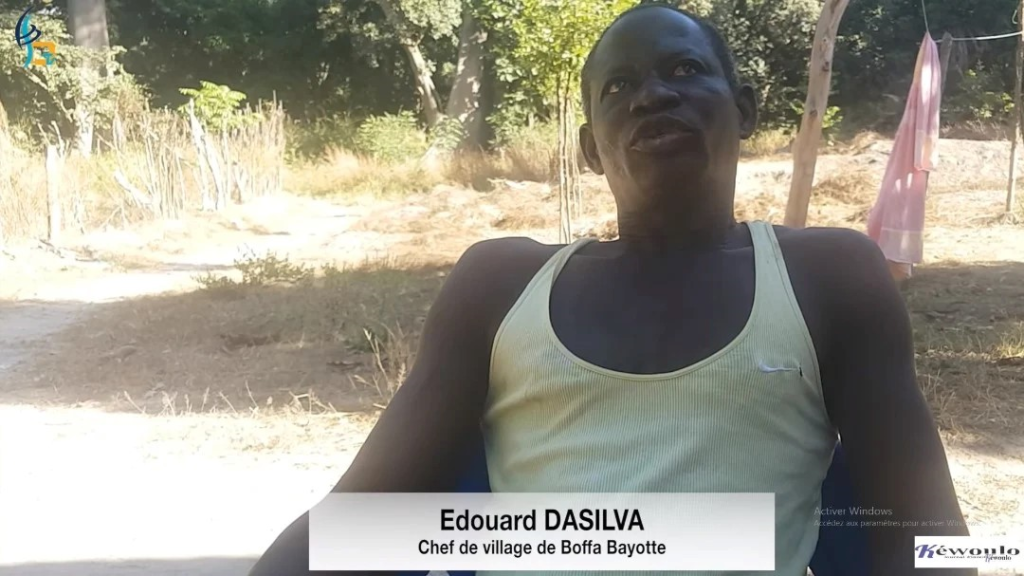 Edouard Dasylva is the Chief of Boffa Bayotte
Chief Dasylva told the journalists, "What happened created some kind of discrimination against the people of Boffa Bayotte, when you take your Identity Card and people see that you are from Boffa, they see you as someone who kills people and God knows that we are not guilty of the crime we are being accused of."
According to him, the systemic discrimination being meted out to the people of Boffa Bayyote is encumbering their equal access to employment and some other economic benefits.
He added, "Because what happened, we are not aware and I know that none of my people was involved in committing that crime. So we don't know what happened; but we're being victimized, it is really difficult for us. We need the voice to clear ourselves but we do not have the voice."
Asked whether they have been able to identify the perpetrators of the crime, Chief Dasylva could not give adequate information to the journalists on whether or not justice has been served.
But, Mr Ibrahima Gassama, a veteran Journalist in Senegal informed the reporters that some arrests were made and that prosecution had taken place.
Public Agenda's independent research indicates that the perpetrators of the 6th January crime in the Boffa Bayotte forest were indeed prosecuted and convicted.
Public Agenda's research shows that the High Court of Ziguinchor sentenced three people to life imprisonment on Monday. June 13, 2022, for their involvement in the Boffa Bayotte forest massacre.
 According to https://www.tellerreport.com/news/  on Monday, June 13, 2022,  rebel leader César Atoute Badiate, journalist René Bassène, and Oumar Ampoï Bodian, presented as members of the independence movement MFDC, were sentenced to life imprisonment by the Senegalese courts.
Except for Mr. Badiata, who was tried in absentia and remains under an arrest warrant, the other convicts therefore remain in detention.
The three men were prosecuted on 14 counts including criminal association, participation in an insurrectionary movement, and complicity in assassination.
Two other defendants in the case received a six-month suspended prison sentence for possession of weapons without authorization.
The other ten were acquitted.
During the trial, the prosecutor had requested life imprisonment for eleven of the defendants.
To justify its decision, the prosecution considered that the assassination of the woodcutters in Boffa Bayotte was a planned, mature, and thoughtful act.
Journalists from Ghana, Senegal and Sierra Leone interact with Chief Edouard Dasylva
The field trip was put together by Fahamu Africa, a Pan -African organization in partnership with the Minority Right Group International (MRGI), MRCG, Sierra Leone, MPEC- Ghana with Financial support from the European Union.
It formed part of a project dubbed, "Engaging Media and Minorities to Act for peacebuilding (EMMAP). The project aims to raise public awareness of the interconnections between minority issues, Community tensions, and conflicts to help build and consolidate sustainable peace in Africa.
By: Mohammed Suleman, Ziguinchor, Senegal