The Media Platform on Environment and Climate Change (MPEC) in collaboration with the Minority Rights Group Africa (MRGA) has rewarded Eight Ghanaian Journalists for their outstanding reportage on Conflicts, Minority rights, climate change, migration, and development issues in the country.
The Eight journalists were selected from various media outfits, including newspapers, online/wire services, radio, and television.
Mohammed Fugu, the Northern Regional correspondent for Graphic Communications Group Limited, won the best journalist award. He took home a plaque, a medal, a certificate, and a cash prize.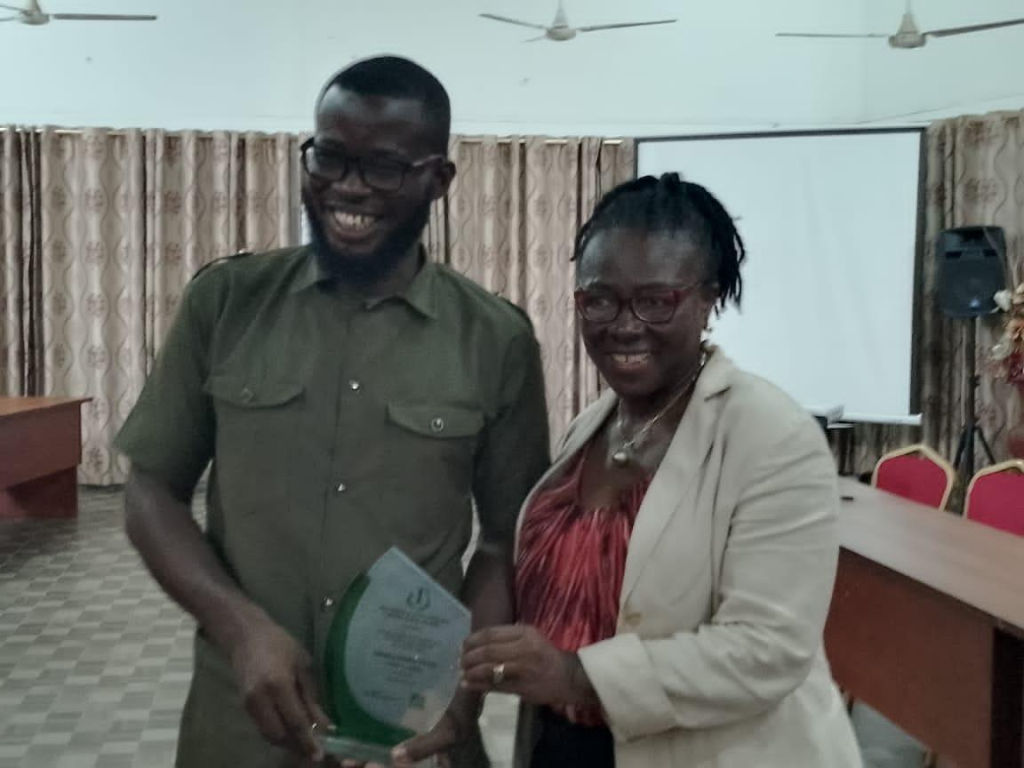 Mohammed Fugu and Ama Kudom- Agyeman displaying the plaque
He also emerged as the winner of the Print and Online category while Benedicta Gyimaah Folley of Ghanaian Times took the second position.
The wire services category was won by Ghana News Agency (GNA) employee Edward Acquah, with Anthony A. Apubeo, another employee of the media outlet, coming in second.
Prince K. Tamakloe, a Tamale-based reporter for Rainbow Radio/Kesmi FM won the Radio category, while Tahiru Abdul-Washiru, a correspondent for Asaase Radio covering the Savanna region, came in second.
Ivy Priscilla Setordjie and Nana Yaw G. Mensah, two multimedia journalists, took home the TV category titles, respectively.
The award ceremony, sponsored by the  European Union and dubbed, the 1st Inclusive and Anti-Conflict Journalism Awards was meant to motivate Journalists in Ghana and beyond to pay closer attention to issues of conflict, migration, climate change, and minority exclusion among other development-oriented issues.
Speaking at the award ceremony in Accra on Tuesday, November 7, 2023, the Executive Director of MPEC, Mary Ama Kudom-Agyemang, explained that the event formed part of activities under the "Engaging Media and Minorities to Act for Peacebuilding (EMMAP)", a multi-country project funded by the European Union (EU) through the Minority Rights Group (MRG).
According to her, the EMMAP seeks to raise public awareness of the interconnections between conflict, migration, and minority exclusion to help build and consolidate sustainable peace in Ghana, Senegal, and Sierra Leone.
Prince Kwame Tamakloe, a Tamale-based reporter for Rainbow Radio/Kesmi FM won the Radio category
She told participants that the "EMMAP is conceptualised to address issues concerning exclusion and discrimination against minority and indigenous communities, migrants, internally displaced persons (IDPs) and refugees. To this end, several activities, including an online course, field trip to identified minority communities, and a Regional Roundtable have taken place in Ghana and the other implementing countries to build media capacity on reporting on inclusive and anti-conflict related issues."
She said the award ceremony was also to improve media coverage narratives of not only the negatives but also the positive stories.
Professor Audrey Gadzekpo, former Dean of the School of Information and Communication Studies, University of Ghana who chaired the event congratulated the winners and encouraged them to continue with the good works in order to reach higher heights.
By: Mohammed Suleman/ publicagenda.news