More than 700 Palestinians have been killed by Israeli air strikes in the Gaza Strip over the past 24 hours, the Hamas-run health ministry says.
Israel's military said it struck 400 "terror targets" and killed several Hamas commanders over the same period.
It also declared that it would not reduce its attacks despite Hamas's release of another two hostages.
UN aid agencies meanwhile pleaded for sustained and safe humanitarian access, warning they were "on their knees".
A third of hospitals in Gaza are no longer functioning due to shortages of electricity, medicine and staff, and the shortage of clean water is now critical.
Israel launched its bombing campaign against Hamas – which Israel, the UK, US and other powers class as a terrorist organisation – in response to an unprecedented cross-border attack on 7 October in which at least 1,400 people were killed and 222 others were taken hostage.
Nearly 5,800 people have been killed in Gaza since then, according to the health ministry.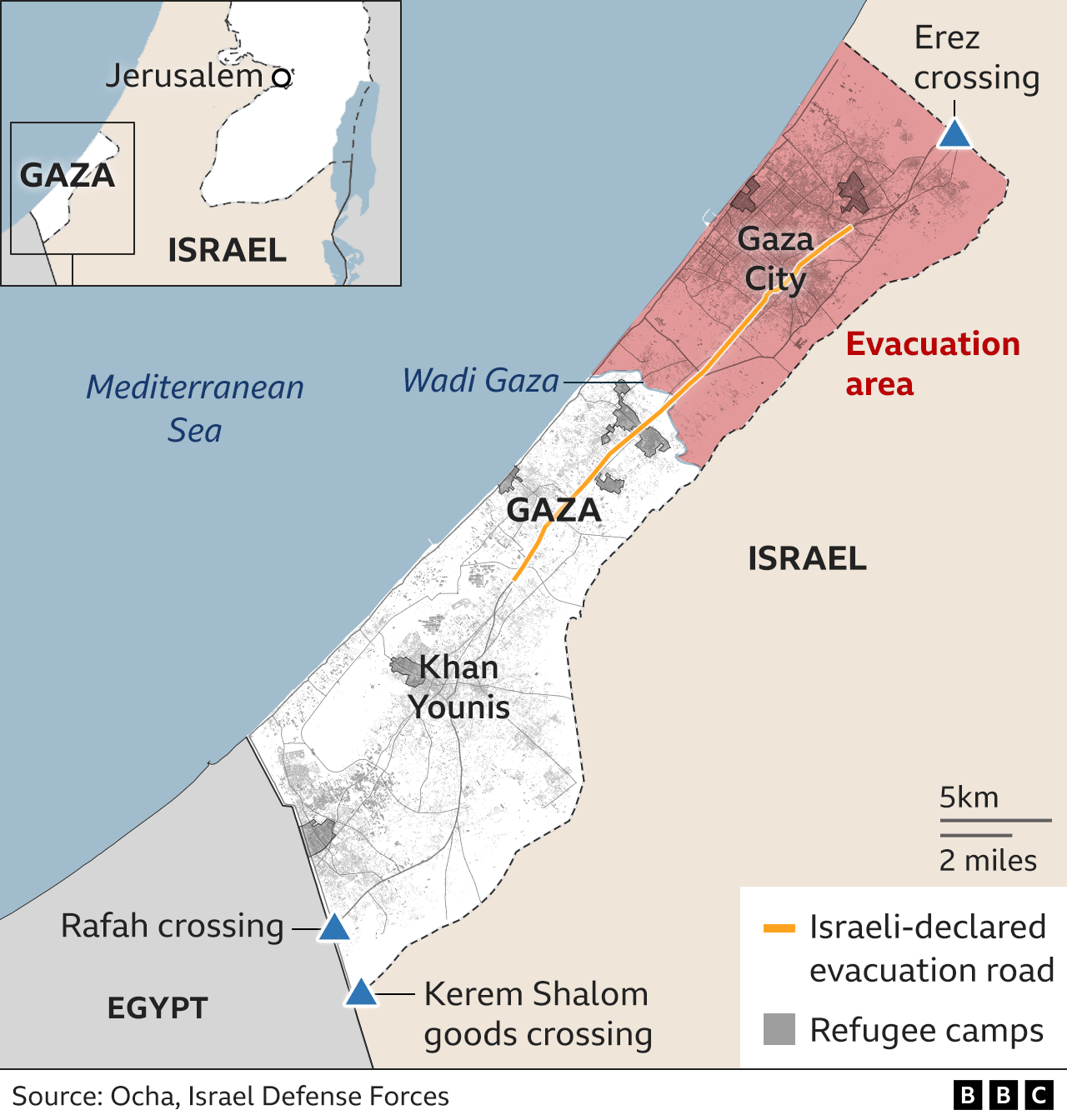 Intense Israeli air strikes overnight hit hundreds of locations across Gaza.
Some of those killed in the southern cities of Khan Younis and Rafah were displaced people who had fled the north in response to an Israeli military order to evacuate the area for their own safety, local officials said.
They included 13 members of one family from Gaza City, who had been staying in a residential building in Qarara, on the north-eastern outskirts of Khan Younis, where the population has swelled from 400,000 to 1.2 million.
A relative who survived said: "We were sleeping and suddenly a big explosion happened. All of my family are dead."
The BBC's Rushdi Abu Alouf says there was grief, shock and anger at the city's hospital on Tuesday morning, as bodies were brought out of the mortuary and taken away for burial. Mourners said there was "no safe place" in Gaza.
Later, about 20 people were reportedly killed in a strike on a residential building in the heavily-populated Amal area of Khan Younis.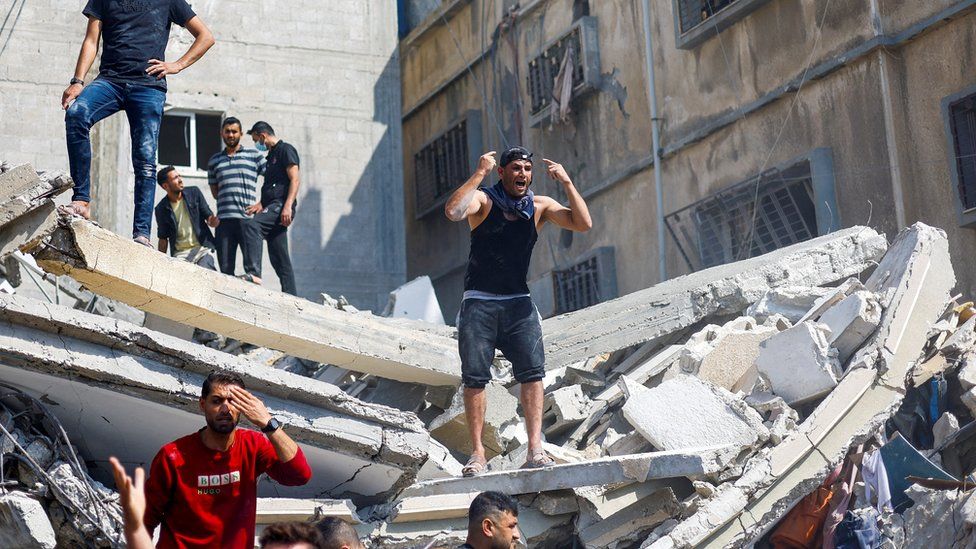 The Hamas-run health ministry said it had been the deadliest 24 hours of the war so far, with 704 people reported killed, including 305 children, 173 women and 78 elderly people. That brought the overall death toll in Gaza to 5,791, it added.
The Israel Defense Forces, or IDF, said on Tuesday morning that its jets struck "dozens of terror infrastructure and Hamas staging grounds" in several northern areas in and around Gaza City, as well as a "Hamas operational tunnel shaft" near the Mediterranean coastline.
It added that aircraft also targeted Hamas command centres and staging grounds located in mosques, killing the deputy commanders of three battalions of Hamas's military wing, and also struck dozens of Hamas gunmen setting up to fire rockets towards Israel.
"We want to bring Hamas to a state of full dismantling – its leaders, its military branch, and its working mechanisms," IDF Chief of Staff Lt Gen Herzi Halevi told commanders on Monday. "The path is a path of unrelenting attacks, damaging Hamas everywhere and in every way."
He also said that Israeli troops massing near the Gaza perimeter fence were "well prepared for the ground operations" – a reference to the invasion expected soon.
The general spoke before Hamas released two elderly Israeli women – Yocheved Lifshitz, 85, and Nurit Cooper, 79 – who were taken as hostages from the Nir Oz kibbutz close to Gaza on 7 October. Others living there were killed and the women's husbands remain among those being held.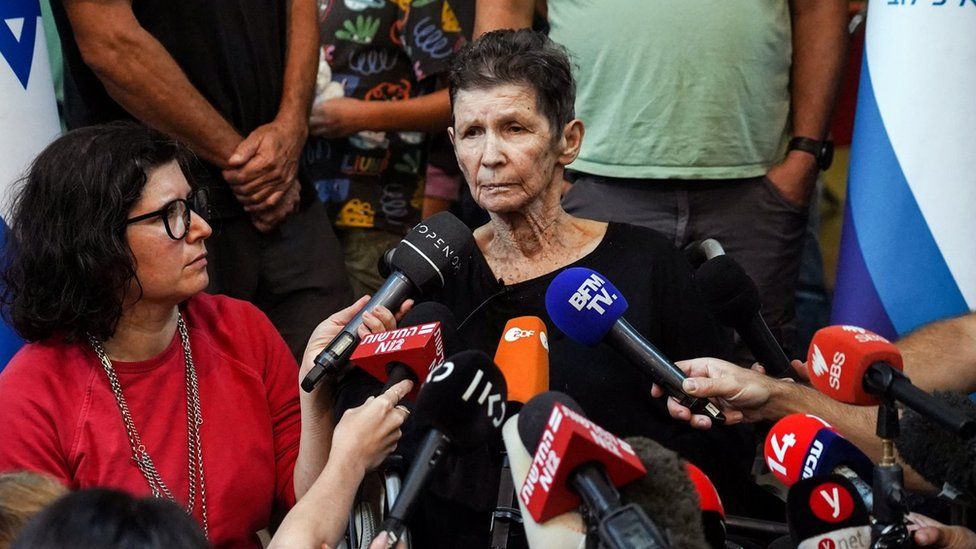 Meanwhile, the humanitarian situation in Gaza is growing more and more desperate, with shortages of food, water and shelter for the 1.4 million people who have fled their homes.
The health ministry warned the territory's healthcare system could collapse and 12 of the 32 hospitals in Gaza were out of service. The others were running out of fuel and only running the most essential services.
A spokeswoman the UN agency for Palestinian refugees, UNRWA, which runs the largest humanitarian operation in Gaza, warned that it had also almost exhausted its fuel stocks.
"If we do not get fuel urgently, we will be forced to halt our operations in the Gaza Strip as of Wednesday night," Juliette Touma told the BBC.
Source: BBC